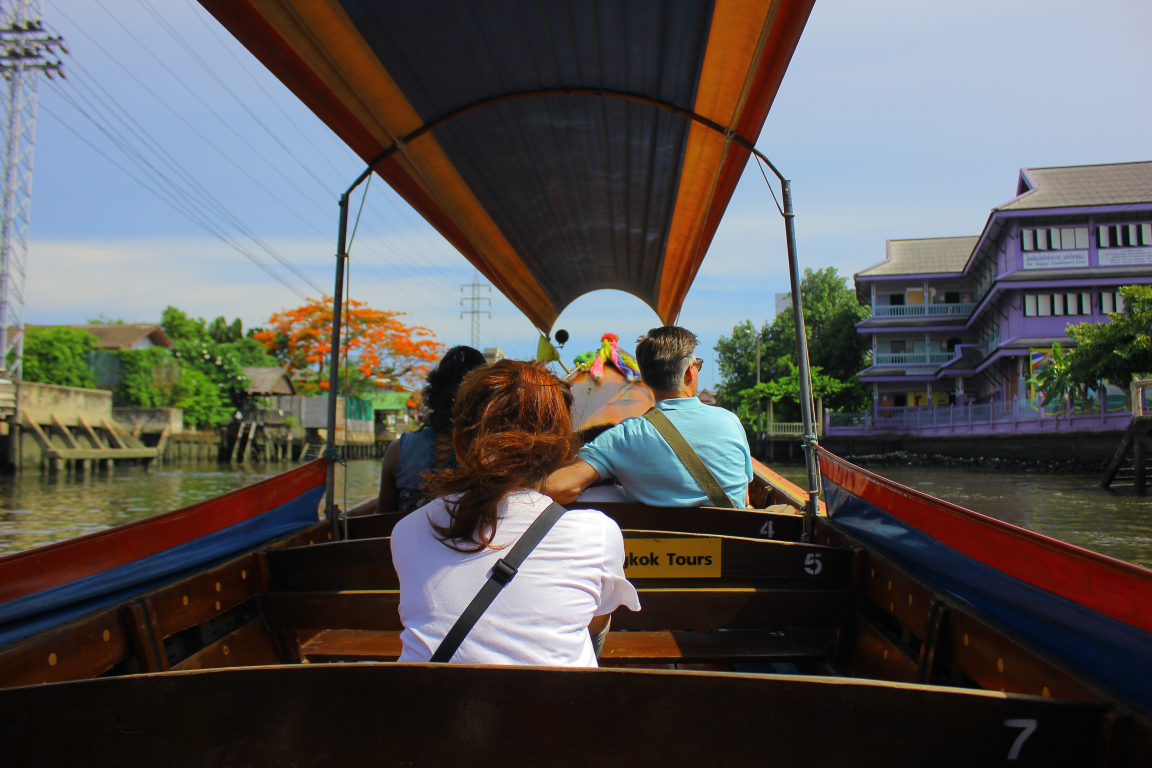 Bangkok bike tour: from Chinatown to the plantations
I ask you, what idjit would do a half day bike and boat tour of Bangkok in the hot season? That idjit would be me (and my husband). On a sweltering 38°C afternoon, we took to the back alleys of Bangkok on some rather funky little bicycles as part of our tour with Co Van Kessel.
The tour was the first time I had ridden a bike in about ten years, but its true what they say… you never forget (but you still get the speed wobbles). After setting off from Co Van Kessels offices, our first stop was a beautiful and intricately decorated Chinese temple off a tiny, weaving soi in Chinatown. The temple was built using only interlocking slabs of wood and decorated with brightly-coloured murals. Incense hung heavy in the air as our guides quickly showed the prayer ritual. Some quick drinks before we hit the pavement again to catch the cross river ferry and more pedal to pavement. The ride from the Din Daeng cross river ferry terminal to Wat Kalayanamitr was probably the hottest slog of our ride, as we were facing right into the blazing sun, but our guides bought plenty of cool water for us.
Figures inside a Chinese temple, downtown Bangkok.
Wat Kalayanamitr is home to one of the largest seated gold Buddhas in the country. It was a beautiful temple, and since we were visiting close to a Buddhist holiday there were lots of Thais lighting incense and making offerings outside. The gold Buddha is enormously tall, dwarfing all his worshipers below as he looked down on them with a perfect serene face. It was an interesting temple to visit, it somehow seemed more real than other that are swarming with noisy, excited tourists.
Once we'd caught our breath in the shade, we rode through Bangkok Yai and head for the long boat pier for our trip the Bangkok Yai khlong. Our group split in two, half going in the first boat with Mr Paksoi and our half going with Amy. The long boast were fast and it was wonderfully cool after our hard slog in the sun. I couldn't tell you exactly where we ended up – the journey took so many twists and turns, and I was too busy to take notice, admiring the beautiful (and beautifully dilapidated) wooden homes on stilts right on the edge of the khlong. We passed monks standing at the fence of their temple, and people feeding catfish and lizards from the balcony of their stilted home. Amy pointed out local ladies in tiny wooden boats, selling green vegetables, lunch dishes and plastic baskets. I unashamedly waved at everyone, and they all waved back, calling out 'Sawadee Kha!'.
Riding up the Bangkok Yai khlong.
Somewhere in outer Bangkok, we left the long boats behind and hit the pavement again, riding past small school children who chattered excitedly and giggled as we went. Some more weaving past small houses and tiny local stores and we came to the plantations and rice fields. It was much cooler out here, and the greenery made for a wonderful change of scenery. The pathway was raised, with no railings and quite thin – maybe two meters wide. At first I had to concentrate hard on staying in the middle of the path and not stacking it, but after a few minutes I had the hang of it. Paksoi and Amy pointed out different plants along the way and waited patiently while we stopped half a dozen times to take photos.
In rice fields of Bangkok! Lush and tranquil.
We stopped for lunch at a tiny local restaurant perched on the side of a khlong. Spread across a long table were so many dishes there was hardly room for our water bottles. There was massaman curry, pad ka prao gai, clear soup with vegetables and tofu, Thai omlettes and sweet and sour chicken, all made from scratch in the small kitchen behind us. The owner was so lovely and friendly, with a huge grin as she brought us Cokes and water from the seemingly bottomless ice chest on the floor. My favourites were the omelettes and the soup.
After lunch, we set off again weaving through the small streets heading back toward Bangkok. Some of the paths we followed ran along side a khlong and were very thin – thank goodness these ones has railings or I might have ended up swimming with my bike! By this time, the sun had gone down and the temperature had dropped off nicely, and it wasn't too long before we had arrived at the pier to get the long boat back down the khlong and out to the Chao Phraya.
Locals on the khlong. Sawadee kah!
The half day tour was fantastic and we were so 'on the go' the whole time, it seemed to fly! Paksoi and Amy were fantastic, patient and extremely helpful. We did have a group member who was feeling unwell after riding in the sun, however Paksoi and Amy arranged for her to take a long boat back to the office early, and she was well looked after. She was almost back to her normal self by the time we had cycled all the way back to the offices. The tour gave us a great insight into local life behind the big streets and skyscrapers of Bangkok, and we got to see so many great places. The food was brilliant, and we were supplied with more than enough cold water along the way. The bikes were in very good condition – when we returned from our tour, we dropped them at the maintenance shed so they could be checked over and service before they went back out again. If you're looking for something different to do in Bangkok, a bike and boat tour is a great option! I highly recommend it. It's hot work, but so rewarding – I had a great sense of accomplishment by the time I got back!
The details:
Co Van Kessel
Co Combo – 5 hour bike/boat tour (1650 baht each)
Mountain or standard city bikes available, helmets available on request.
Meal, water, bike hire and boat fares included.
Head to Co Van Kessel for more information.