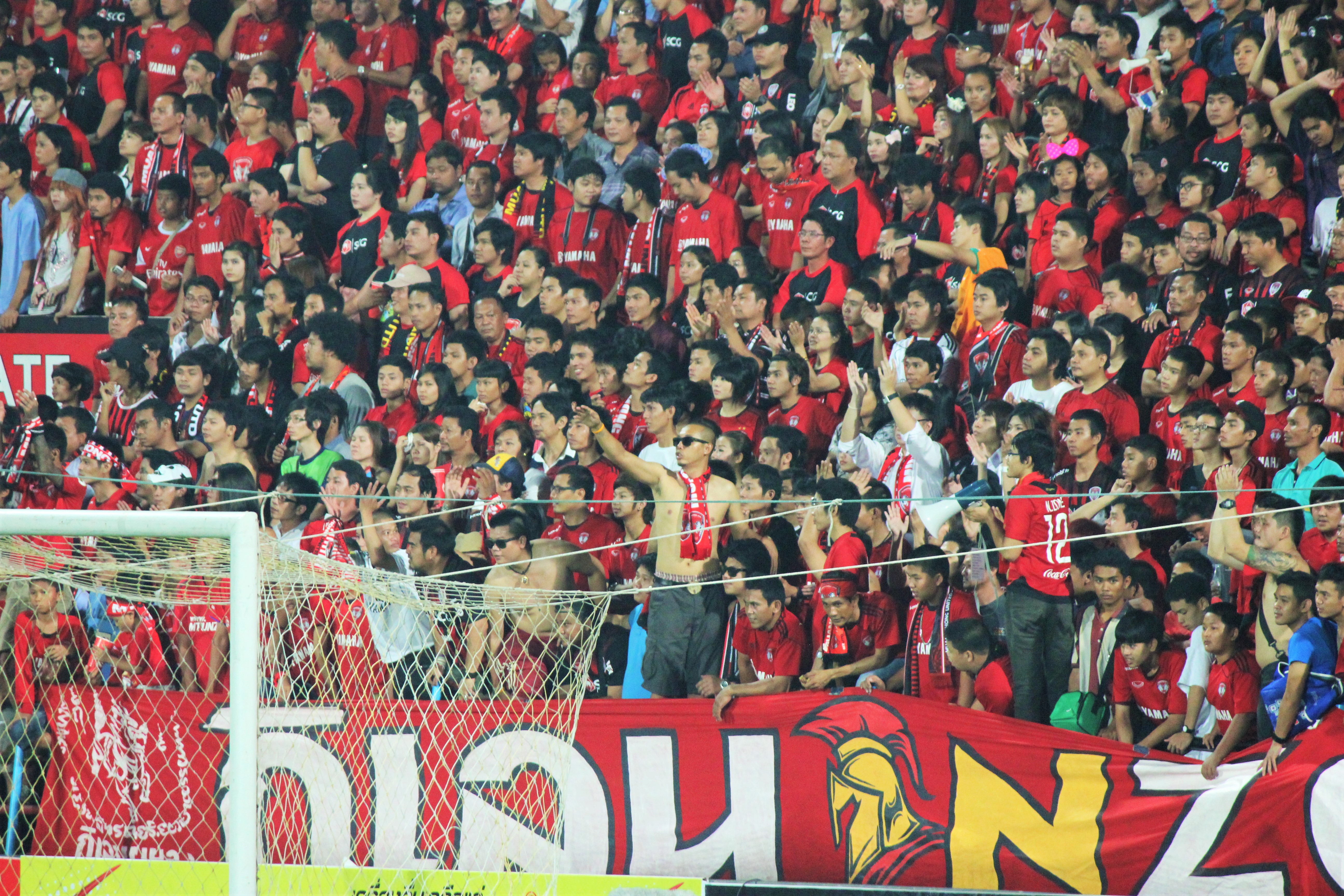 "Yes, sir! Miss! Please!"
I clutched my camera as the crowd heaved and I was shoved toward the voice calling out to me. A ticket stub was pushed into my husband's hands and we were ushered through the gate.
It was match day in Nonthaburi, Muang Thong United against Bangkok Glass, and SCG Stadium was sold out. As avid football fans ourselves, my husband and I thought we'd try to squeeze in a match on a trip to Bangkok. Patrick had found some details about the match on Twitter the week before, but we were not expecting it to be so popular or such chaos! We caught the BTS to Mo Chit station and, having failed to locate one of the stadium shuttle buses we had read about on Twitter, hailed a cab to take us the rest of the way. The driver did not speak a lot of English, but enthusiastically gave us the thumbs up when we mentioned Manchester United. Once we crawled our way through the traffic, we jumped out at SCG Stadium and were instantly blown away. It. Was. Packed.
First thing was to find tickets. Patrick battled his way through the crowd to a small ticket booth near the main road. I was busy watching the locals. Singing, dancing, drumming. There were people selling match programs, scarves and jerseys. Singha and Chang beers were passed around and soft drinks were handed out. It all seemed like a huge, out of control party, with everyone wearing black and red jerseys. Patrick was not having much luck, as the girls at the ticket booth kept shaking their heads.
"Sold out!" they said.
Bitterly disappointed, we stood and watched the crowds swell while trying to work out what we should do. One of the girls from the ticket booth appeared and asked us to follow her friend, gesturing to a grinning man in a Muang Thong United jersey.
"Yes! You will go to the football! Follow me!" he shouted. Righto, Football Fairy Godmother.
I still don't know where the ticket stubs came from, but I think they had already been checked by the gate staff – who waved us through happily as our Football Fairy Godmother lead us through the crowd. Inside the stadium the noise grew, as the supporters chanted and waved flags madly. Almost all the seats were filled with giggling, excited Thais.
"Here, you sit here! My friends will look after you!"
The Football Fairy Godmother pointed to the steps in the aisle at the northern end of the east stand and gestured to some Thais around us. Other Thais were sitting on the steps further up the stand and waved to us happily. This was obviously the "done thing", so we followed suit and pulled up a spot on the steps. Every few minutes, more Thais elegantly picked their way between us and filled the steps behind. After about 15 minutes, the entire stand was packed; some Thais were squeezed three across in the narrow aisles! More people filed in and sat across the walk way at the bottom of the stand. The entire southern stand was occupied by "Ultra Muang Thong", a very coordinated and loud group of supporters. The northern stand was occupied by "N Zone", a rhythmically quick and noisy group lead by a few shirtless Thai men with Muang Thong scarves tied around their neck. Not to be outdone, the Bangkok Glass supporters took over part of the western stand, clad in green and waving enormous flags with carrots on them (no, I am not kidding – Bangkok Glass' emblem features a white rabbit).
The match itself was equally dramatic. The crowd rose as one as Muang Thong players ran at goal, and howled with disappointment at each missed opportunity. The was much arm waving, and hand gesturing, as the locals questioned the referee's decisions (or his parentage, my Thai swear words are not that good). The drumming, singing and flags did not stop for the whole match. The crowd booed as the opposition coach kicked water bottles onto the pitch as a decision went against his team, and his bench argued with the fourth official. Eventually, Bangkok Glass broke the deadlock and the ball swished into the back of the net. The crowd wailed collectively, as the away supporters celebrated wildly. Muang Thong United returned fire not long after, slotting home a penalty at the southern end. The stadium exploded with noise, as Thais and farangs alike celebrated.
After 90 minutes, Muang Thong United had slipped to their first defeat in an extraordinary number of matches – we appeared to be a bad luck curse. The singing and chanting continued well after the final whistle, as N Zone and the Bangkok Glass supporters chanted back and forth to each other. Ultra Muang Thong held their scarves aloft and gave rendition that sounded like a Thai version 'You'll Never Walk Alone' (in all seriousness, I don't know what the song was, but if you do, please drop me a comment below and clue me in!). As locals clambered down the stands and headed for the exits, they chattered excitedly –
"Miss, did you enjoy the game? It was very good! Sorry we did not win, today we tried very hard!"
I had thoroughly enjoyed the game – it was very good to watch, and the atmosphere was fantastic as neutral spectator. My husband declared himself a Muang Thong United supporter, and received many high fives and hand shakes.
Outside the stadium, we met our next challenge – getting back to Bangkok. We followed the crowd to the main road – aptly named "Popular Road" – and tried in vain to hail a cab. Traffic was at a crawl, and every available cab and mototaxi was occupied. Also mysteriously missing were the shuttles back to Mo Chit BTS station. After a while, and no more luck, we walked back toward the Novotel Bangkok Impact Hotel, about 10 minutes away. Here we thought we would be out of the traffic, and would have a better chance at flagging a cab to take us back to Rambuttri. It took another 10 minutes of trying to wave down an empty cab before we found a driver willing to pull over for us. There must be an easier way to get back to Bangkok, or at least Mo Chit BTS, from SCG Stadium – I am still convinced we were looking in the wrong spot. However, standing outside the Novotel did make it slightly easier to hail a cab.
Football at SGC Stadium in Nonthaburi is a crazy, squeezy and noisy experience. I can guarantee you will have a great time – just go with the flow and let yourself get swept up in the hype. Book ahead though, you can buy tickets online from Thai Ticket Major. Tickets cost between 120 and 200 baht, depending what ticket level you purchase or where you want to sit in the stadium. Beer and street food is available around the outside of the stadium, and consumed by locals with reckless abandon.
(excuse the shaky camera word, it was tricky to film and wriggle out the way of people trying to climb down the steps!)
The details:
Muang Thong United plays out of SCG Stadium, in Nonthaburi. The stadium is about 30kms from Sukhumvit, Bangkok. Take the MRT to Chatuchak Park, or BTS to Mo Chit station. Then take a cab from there to SCG Stadium – on the meter, this should be about 150 baht.
Buy your tickets from Thai Ticket Major, or risk it being sold out once you arrive!
Beer here isn't the cheapest, but you can buy it in huge quantities… bucket of Singha, anyone? There is also small food carts, soft drinks and water outside the stadium.
Getting home – try to jag a cab close to the stadium (you might even split a fare with some locals). If you are on your own, there are plenty of motorcycle taxis around. If you struggle, walk back toward to the Novotel so you are a bit further from the traffic and main rush of people. A taxi on the meter back to Sukhumvit is about 300 baht (it is a 30km trip after all!).