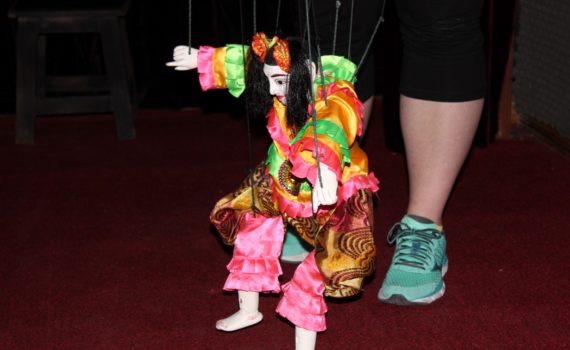 The evening air was warm and sticky as we climbed the narrow stairs to Htwe Oo Myanmar Puppet Theatre. Honking traffic and pedestrian chatter fell away we were ushered into the cool, dark theatre. Dressed in a crisp maroon shirt and black longyi, Mr Htwe's wide grin gave me a sense of his infectious energy and desire to preserve this cultural gem of Myanmar.
Mr Htwe spoke with so much passion for his craft. He explained that while working aboard a ship, he realised that the pursuit of money would never end, and decided to follow his heart. After battling political instability, money troubles due to a crumbling tourism industry, and the after effects of Cyclone Nagis, Mr Htwe and his wife Mrs Oo finally opened the theatre.
The Performance
Htwe Oo Myanmar has cherry picked the best parts of traditional Burmese stories and opera for their shows. Mr Htee explained that Burmese opera can go for many hours, involving an enormous cast of both puppets and puppeteers. The story is engaging and action packed, and Mr Htwe ensures that all sections are translated or explained to his foreign audience.
Told in traditional Burmese style, this classic tale of princes, princesses, villains and heroes also picks up on themes from Burmese and Buddhist mythology. Brightly coloured sets and loud, powerful Burmese music complete the experience.
The Puppets
Each puppet used by Htwe Oo Myanmar is hand made using local materials and local artists. Costumes are brightly coloured and incredibly intricate, often closely mimicking the costumes worn by Burmese royals and depicted in murals splashed across temples.
Even more intricate is the system of strings and hand movements required to make the puppets move. The puppeteers make these characters come alive in the opera. From amazingly deft small movements to convey a thought or emotion, to acrobatics that would leave my attempts in knots. Watch for the moment in the show… you'll know it – it took my breath away!
At the end of the show, the puppeteers bring out puppets for audience members to try their hand at. I discovered I am not destined for the puppeteer life. While I managed to get a few dance moves out of the marionette, they were far too jerky and static – much to the amusement of the Htwe Oo puppeteers.
The Passion
Htwe Oo Myanmar is overwhelmingly passionate about preserving and promoting the art of traditional Burmese puppetry. Mr Htwe and his troupe haven't just travel the length and breadth of their home country. They've even traveled overseas to perform at cultural exhibitions and puppetry competitions. While supporting puppetry masters around the country, the company also aims to engage and educate a younger breed of puppeteers. Mr Htwe and Mrs Oo's own children also participate in the shows as part-time puppeteers, picking up secrets from the company's own master puppeteers.
Details – Htwe Oo Myanmar
This show is an absolute must see when you're in Yangon, Myanmar. Bookings are essential, and Htwe Oo ask that you book at least one day in advance. The theatre only holds a small number, so audiences are small and intimate. We booked our spot by emailing Htwe Oo – details below.
Htwe Oo Myanmar has moved to new premises at Ahlone Township, about a 15 minute drive from the Sule Pagoda.
No. 12, First floor
Yama Street
Ahlone Township, Yangon.
Mobile: (959) 512 7271
Email: booking@htweoomyanmar.com
Website: http://www.htweoomyanmar.com/
Facebook: www.facebook.com/htweoomyanmarpuppetryhome