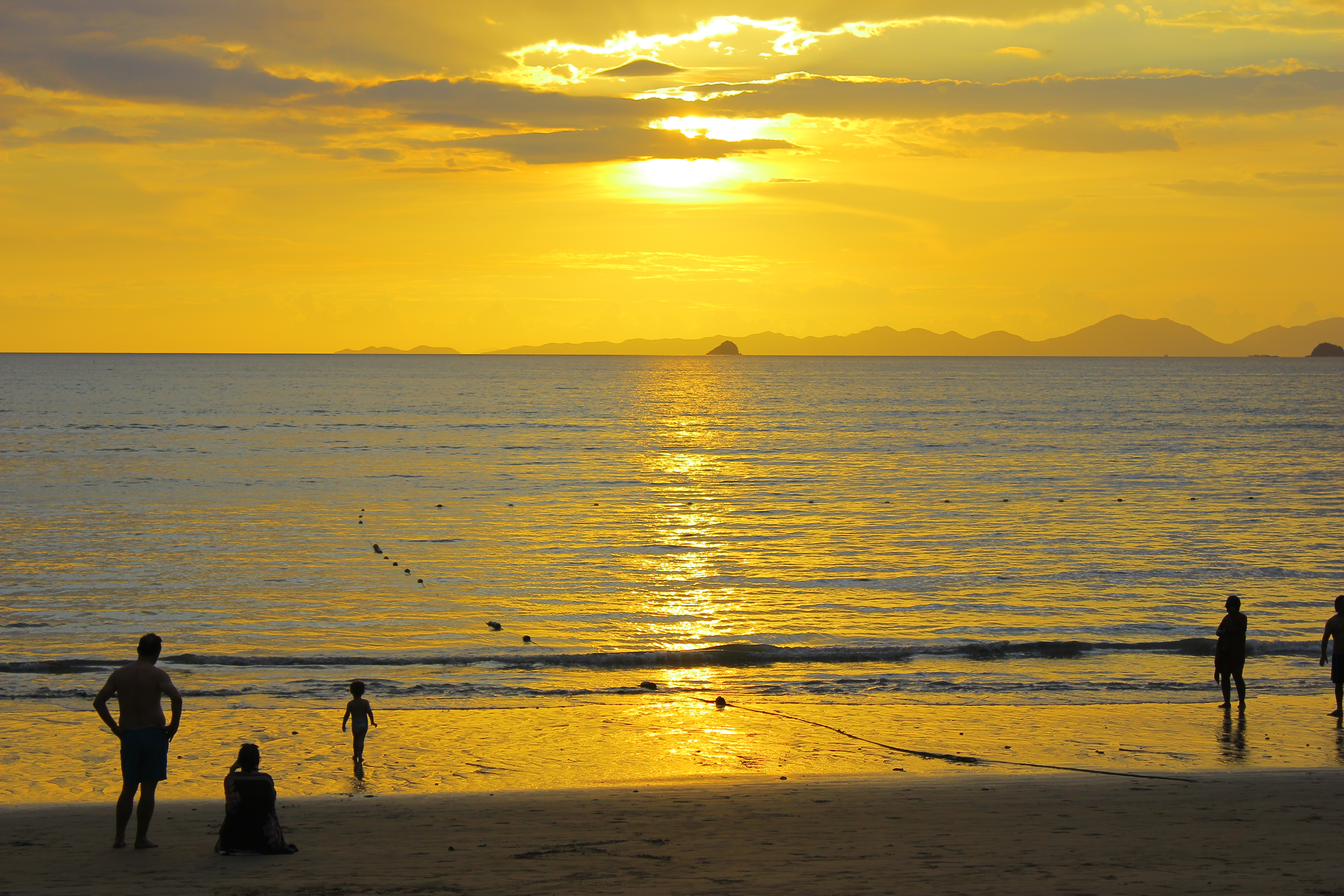 In the south of Thailand, where the sun blazes a little brighter and the air smells of salt and incense, there is a tiny beach side town the backpackers now blow through on their way to Koh Lanta and Koh Phi Phi. Ao Nang is peaceful town, dotted with resorts and filled with great restaurants and happy smiling locals. It's a popular family destination with sun soaked stretches of sand, and while a lot of travelers only stay a day or two before catching a boat to the islands, Ao Nang has plenty to offer those looking to stay longer. Here is my list of 10 things to do in Ao Nang!
10. Rock Climbing
Ao Nang is surrounded by enormous limestone cliffs, some even jutting out into the water. If scaling and hanging off these stunning formations sounds like your thing, there are a number of companies in Ao Nang that offer rock climbing and trekking tours. While I haven't (yet) taken part in any rock climbing in Ao Nang, it would be a tremendous adrenaline rush! Some companies even offer climbing tours where you climb an overhanging rock formation, without ropes or harnesses, and once you feel you're high enough, you jump off into the perfect azure deep water below!
9. Scuba diving and snorkelling
The region's pristine warm water makes for spectacular snorkelling, especially around reefs and the Phi Phi Marine Park. There are also plenty of great dive sites to take advantage of as well. You will find an abundance of companies in Ao Nang offering snorkelling and scuba diving tours. While I haven't yet taken part in snorkelling or diving yet, I can tell you the water is divine and you should make the most of it!
8. Visit the Wat Tham Suea – the Tiger Cave Temple
I have now been to Ao Nang twice, with the grandest of plans to climb the 1, 237 steps to the top, and still have not done so. I know, dreadful. I get so wrapped up in swimming and wriggling my toes in the sand. Plus, you know, it's hot. I still plan to return to Ao Nang and fully intend to climb those stairs. Some recommend a dawn ascent to see the sun rise, while others recommend an afternoon climb to see sunset. The views are vast and impressive, a reward for the hard climb. Or, do what I will, and simply marvel at your own resilience and determination. Over a thousand steps to the top? Calls for a Rocky Balboa impersonation, methinks.
7. Shop for souvenirs and trinkets
There is no shortage of tourist trinket shopping in Ao Nang. Bags, magnets, t-shirts and postcards are all easily found. At night, Nopparat Thara Beach Road and Ao Nang Beach Road come alive as stores open for the crowd emerging from their resort pools or returning from day long tours to Railay Beach. There is an interesting mix of mass produced tourist goodies, like t-shirts, stubbie coolers and singlets, as well as unique homewares, hand painted girls tops and handmade jewellery. On our first trip to Ao Nang there was an abundance of original artworks for sale on the main road, about 80 meters toward the beach from McDonalds in the main street. On our second trip, art was a little harder to find. We did find one shop on the road that links Nopparat Thara Beach Road and Ao Nang Beach Road. Be sure to haggle. Some places will ask extortionate prices to begin with.
6. Night tuk tuk tour
This was more my husband's pick than mine, but turned out to be good fun – and would be especially great for kids. Ao Nang tuk tuks do not sport three wheels and are nothing like the Bangkok version. They are tiny Izuzu utes, with bench seats in the tray and a roof. At night, these tuk tuk's morph into mobile techno parties, complete with strobe lights, neons and pounding music. Locals take great pride in their tuk tuks, fitting them out with as many gizmos as they can, including DVD players and TVs. Think 'Pimp My Ride', but small and, well… funny. You can charter one of these party tuk tuks to ferry you around – my husband somehow managed to get us a round trip of Ao Nang with our own doof-doof-doof and neons. The breeze was cool, the music was good and the lights were bright! They certainly turn heads, and its great competing against fellow tuk tuks while waiting for traffic to move.
5. Monkey trail
If you're feeling the need to stretch your legs and strolling on the pristine sand isn't cutting it, venture to Pai Plong Bay via the Monkey Trail. Starting at the far eastern end of Ao Nang Beach, the Monkey Trail is a steep stair climb and walk through the scrub to Pai Plong Bay – home of the plush Centara Grand Resort. The path is well worn, but the stairs are steep so watch where you are going. We didn't see any monkeys on the walk, however we did see a lot of birds and what I think was a squirrel! The views of bay from the crest are quite pretty and the walk is worth the view from Pai Plong Bay.
4. Wednesday Market
While Ao Nang might not have the street food scene of Bangkok, it's Wednesday Market is still pretty rocking. The market is on Khlong Haeng Road, just past the boxing stadium. Stalls begin setting up around lunch time, so aim to arrive late afternoon or early evening. A tuk tuk should only cost you about 500 baht return – your drive will wait around for you at a predetermined spot (usually where he dropped you off). There was four of us and one toddler, so it wasn't a bad split really. The market is predominantly local, but you will find some clothes (new and pre-loved), children's shoes and toys. There is plenty of food available, including moo ping (grilled pork skewers), gai yang (grilled chicken), gai satay (chicken satay) and khao gaeng (rice and curry). There's also mussel pancakes and barbequed 'everything' stalls, as well as fresh fruit shakes and juices. Everything is quite cheap – think 20 baht for fruit shakes and 5 baht per stick of gai satay.
3. Eat seafood (of course!)
I love food. I spend a lot time thinking about it, cooking it and photographing it. Ao Nang has some of the best seafood around. From very casual, home cooked meals at the no-frills affair 'Family', to beachside dining at Wang Sai Seafood and Chaba Thai Kitchen. My favourites include whole fried fish with garlic and pepper, barbequed prawns and lobster with fried garlic. There are plenty of seafood restaurants in Ao Nang, but my absolute favourite was Family. Tucked back off Soi Ao Nang 6, in a large open air restaurant over looking a carpark, Family Seafood and Thaifood offers a dizzying array of Thai dishes and seafood. It is run by a local family, with the grandfather out the front grilling fish, prawns, lobster and corn cobs over coals. Everyone else is lending a hand in  the kitchen or serving tables. The beers are exceptionally cold, and true to Thai style, your dishes will arrive one by one in no particular order. Just roll with it and enjoy it.
2. Day trip to Rai Leh and/or Koh Phi Phi
Looking to get out of Ao Nang for a day? Jump on a long tail boat for a day trip to Rai Leh Beach, or hop a day tour to Koh Phi Phi. A long tail boat to Rai Leh will cost you about 150 baht for a spot on a long tail shared with 8 people (if you want a boat to yourself, you can expect to pay 1500 baht). We took our own lunch over, but there are some restaurants and cafes there. Wander through the small village of resorts and bars, do a little shopping and lounge on the beach in the sun. The was plenty of shade on the beach, and it was beautiful scenery. While I haven't been to Koh Phi Phi, my husband also highly recommends it. Spend the day snorkelling and diving through the beautiful Phi Phi islands, go kayaking and cliff jumping, then once you've had your fill of sunshine, relax with a pina colada at one of Koh Phi Phi's many bars. The ferry to Koh Phi Phi Don leaves the Nopparat Thara Pier at Ao Nang at 9.30am.
1. Spend a day on the beach
Nopparat Thara Beach is a long, sun soaked stretch of sand fringed by stunning turquoise water. You'd mad not to spend at least one day on the beach in Ao Nang. The calm waters are great for swimming, and there's plenty of shade high on the sand. The eastern end of Nopparat Thara Beach can be a little busy with long tail boat traffic, however there is plenty of beach to take advantage of. Ao Nang Beach is a little busier, as there is more boat traffic and beach isn't as nice. Directly across from Nopparat Thara Beach you'll find stalls selling all the hats, sarongs and kids beach toys you could possibly need. There's also street food stalls and restaurants facing the water if you fancy lunch. The sunsets in this area of the world are some of the best, and are best enjoyed with a sundowner at one of beachside bars.