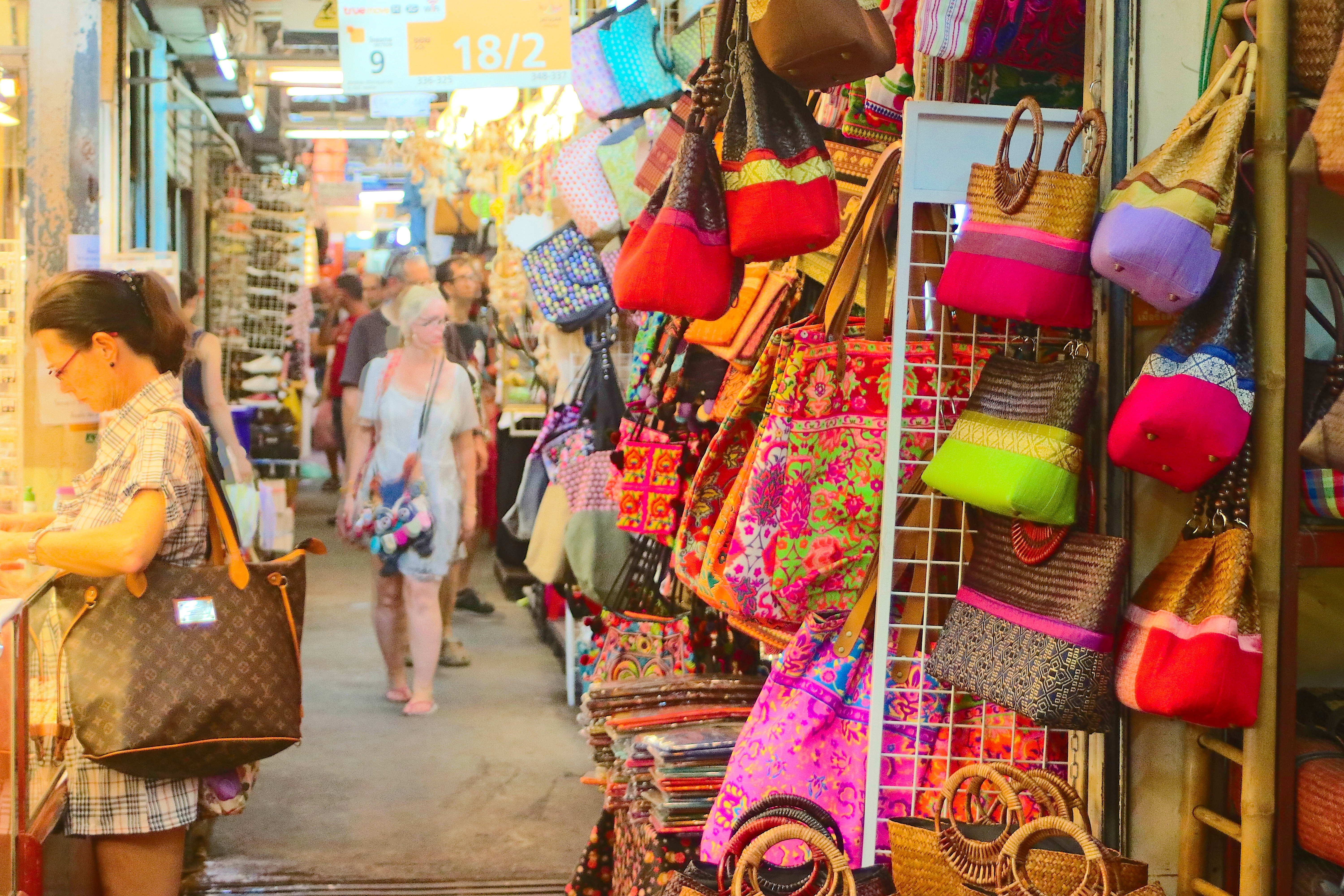 Chatuchak Market is one of the best places to shop in Bangkok. Its variety is some of the best around, but its immense size can be daunting for first time visitors. Here is your guide to Chatuchak Market and getting the best out of it!
Getting to Chatuchak Market
Chatuchak is easy to get to! Catching public transport like the BTS (skytrain) or the MRT (subway) is cheap and convenient. If you catch the BTS, Mo Chit station is a short walk from the market. If you're traveling on the MRT, get off at Khampaengphet station – its closer than Chatuchak Park station. The BTS website has great, easy to read maps and even shows the MRT line. If you hop on the BTS Sukhumvit line, just ride to Mo Chit station and hop off there. If you're the BTS Silom line, change for the Sukhumvit line at Siam station. Should you be staying near the Chao Phraya river, catch a boat to Sathorn pier and you can catch the BTS at Saphan Taksin which is only a minute away – just follow the signs overhead.
Almost every taxi and tuk tuk driver in the city will know how to get to Chatuchak market, so hopping a taxi will not be a problem. You can expect to pay upwards of 100 baht, so it is an expensive option. Keep the Bangkok traffic in mind too, but I haven't found it to be a real problem. After hours of shopping and more purchases than you can carry, sometimes a taxi home is a good option.
How to navigate Chatuchak
To be honest, I have no secrets of my own to navigating Chatuchak Market; I'm more than happy to wander back and forth through the rows of aisles. However, I am definitely a browser. My husband also has a fantastic sense of direction, and manages to find his way through the market by, I suspect, the scent of food or beer in the air. Maps are available from the information centre, near Gate 1 on the western side of the market. They're colour coded and detail what is available in each section. Blayne from Leaves From The Vine recommends using OffMaps, to navigate. OffMaps doesn't require internet or wi-fi connection and you can drop pins to remind yourself where certain shops are. You can find Blayne's post about her Chatuchak journey here. In my opinion, the number one rule of Chatuchak navigation? If you see something you like, buy it then and there. The chances of making it back find it later are slim – you'll get distracted by everything else on offer here!
What to buy at Chatuchak
This is one of the best places to shop in Bangkok, and stock so much more than the usual tourist souvenirs. The market is particularly good for vintage and retro items, as well as local designers. Think less 'Same Same' t-shirts and more quirky and funky designs from local up and coming labels. Jeans, skirts and dresses appear in every imagination at Chatuchak. Sizes do run small for women (as with most of Thailand) so don't get disheartened. Children's clothing is a great for the little ones in your family – super cute and super bright patterns, baby harem pants and elephant print everything. Jewellery is also popular, and not the gold of questionable authenticity kind. Hand made, braided, beaded and woven pieces are popular, cheap and quite well made. There are also quite a few shop selling stands of beads in every form imaginable, including jade. I always buy some to take home to my mum, for her jewellery label. Chatuchak is also a great place to buy souvenirs or gifts, with plenty of cute embroidered purses, colourful scarves, elephant key rings, stationery and magnets. If you're looking to design your own clothes, you can buy beautiful material by the metre as well. Looking to adorn more than yourself? you can find an amazing array of homewares at the market, including statues, rugs, furniture and artwork. Fancy decking out your kitchen? There are all the woks, pans and utensils you can think of available for purchase too. And if you've bought too much or too big to fit in your suitcase, you can swing by the UPS or TNT office at the market to box your purchases up and mail them home.
JJ Mall – air conditioned paradise right next door!
If the heat becomes unbearable, take refuge at JJ Mall, just to the north of Chatuchak market. JJ Mall sells a lot of fare similar to what you'll find at the markets, but there are also stalls catering to locals including some very expensive and impressive looking paintings and sculptures. You will find wedding supply stores and shops selling incense in every scent and form imaginable. Need a foot massage after traipsing through the markets? JJ Mall has that too. You'll also find a large, clean food court inside JJ Mall. I can recommend egg noodles with barbeque pork, combination fried rice and wonton soup. Vendors in the food court do not accept cash, instead you put baht on a reusable card at the service desk near the food court. Use this to buy your food and drinks at the food court and any unused baht on the card will be given back to you.
What I love most about Chatuchak Market
The people watching at Chatuchak Market is excellent. Thai locals come to shop and socialise at the market, and if you're visiting around holidays there is often dancing, music and local groups showcasing their talents. Pull up a seat at one of the small bars or coffee shops around the market, take a breather and watch the market bustle around you. Teens shop for the latest fashions, grandmothers haul bags of spices and plastic trays though the skinny aisles, men continually rearrange their shop fonts. Its a riot of colour and sounds and scents, which will overwhelm and delight you.