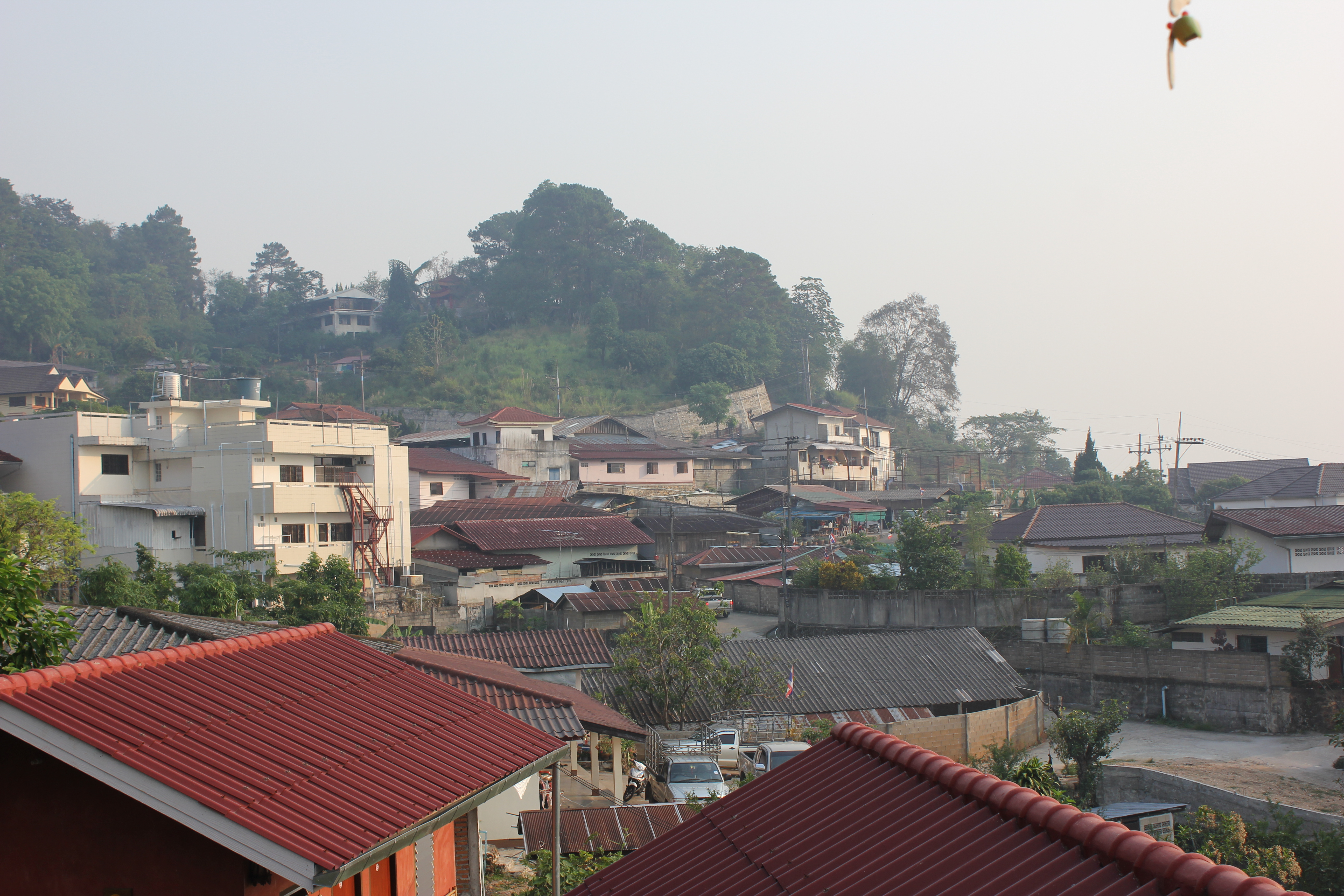 Perched high in the mountains of the northern Chiang Rai province, is a tiny town, where life moves at a slower pace and the air feels a little lighter.
Surrounded by vast sloping fields of tea plantations, Doi Mae Salong is a beauiful town with a rich Yunnan Chinese influence. Red Chinese lanterns hang from the telephone wires that zig-zag across the road, as ladies pick fresh tea leaves in the fields below. The town itself is built all higgledy piggledy – houses of cement and brick with clay tile roofs, built almost on top of each other. Old ladies sat outside shops, smoking and flashing us toothy grins as we drove past. I watched pedestrians making their way along the side of the road; one lady dressed in bright woven clothing was carrying a large bundle on her head and small child in a sling on her back. Our guide explained she had come down from a hill tribe village to sell things at the local market.
Our guesthouse had amazing views of the town and the mountain range, even in the hot season when the crops were ablaze and the smoke was thick in the air. After a long day driving, we made a beeline to the small bar, and took over the bench which faced out to the valley below. The owner was cheery and very friendly, bringing us his coldest beers and glasses of ice. As the sun disappeared, a gentle bamboo flute tune trickled down the hills, followed a reading of the daily news in Chinese for residents without televisions or radios.
It would have been very easy to sink deep into the old lounges on the balcony at the guesthouse bar and let the cool darkness swallows us, but we had a dinner date at a local Yunnanese restaurant.
Ping Ping Restaurant
Next to the markets near the turn off for Hongfu Boutique Resort, in a neat little building open on two sides, you will find Ping Ping Restaurant. Run by a local family, this little restaurant serves up amazing Yunnan Chinese cuisine in big portions for little dosh. A teenage girl in pink and white Hello Kitty slippers served us beers while our guide 'A' ordered a spread of dishes for us to share. The prize dish was a whopping plate of braised pork leg, with a divine, meaty broth that tasted of star anise and salt. There was no wrangling this dish, the meat simply fell off the bone when you tapped it with your spoon. Instead of rice, we sopped up the broth with slightly sweet steamed buns. I could have only eaten the pork leg and been totally satisfied, it was one of my favourite dishes!
There was also a plate of barbequed duck that was extremely tasty. Cooked to perfection, with crispy skin and delicious juicy meat. If I had've ordered, it probably would not have made its way on to our table, as duck is not my favourite barbequed meat. However, it was delicious all the same. A surprising favourite of mine was stir fried mushrooms in soy sauce, garlic and chilies. The mushrooms and the duck together were divine – salty and succulent, chased with icy cold beer.
Another dish arrived at the table – stir fried ostrich with chili, garlic and handfuls of coriander. It looked a bit like pad gra pao, but the meat was different. To me it was like a cross between beef and chicken. The flavour came from the chilies and garlic, and the coriander added a fresh kick. I had to concentrate on not thinking about the long legged bird running in a paddock outside in the dark. I wondered if they kept these ostriches out the back, or if it was lost in translation. Or maybe they were just pulling our collective leg?
Once we'd eaten our fill, and watched 'A' and Ehk stack more and more roasted chilies onto their steamed buns, we left with our bellies full and smiles on our faces. The bill was unbelievably cheap; we made the girl in slippers double check it as we were sure it wasn't enough. She returned to the table nodding and grinning, handing the bill over to my husband. In the end, it worked out to be about $15(AUD) a head for the whole feast. We still suspect they missed some beers.
If you're in Mae Salong and looking for somewhere to eat, make sure you pop into Ping Ping Restaurant. Their menu is huge, and the service is lovely. It's a proper, family run restaurant and you'd mad to miss it!
Where have you eaten the best food? Tell me below!