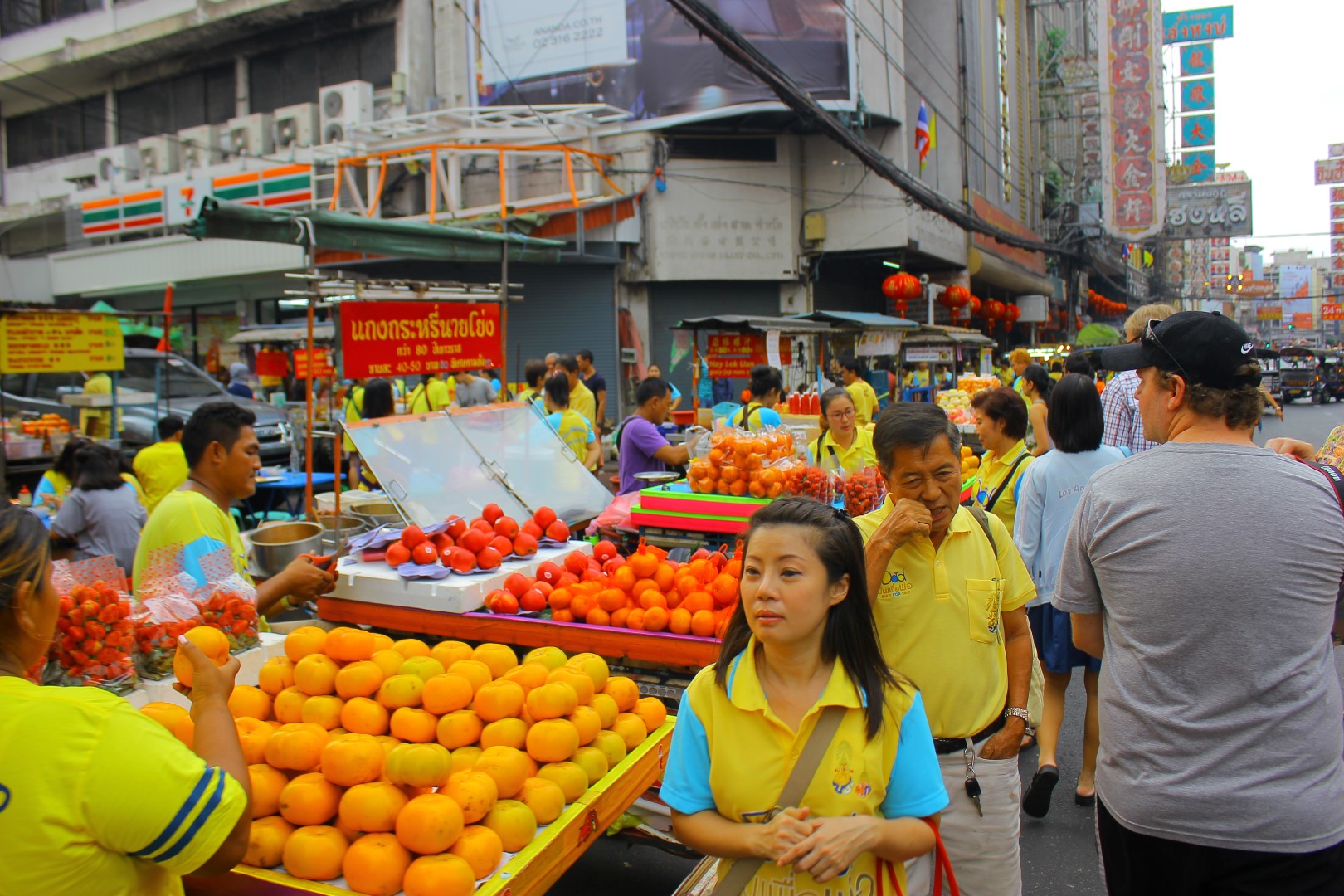 Street food is one of my favourite things about travelling. I love different dining cultures and cuisines around the world, and I believe food is one of the greatest ways to learn about a country and its people.
Fresh and flavourful
Street food is delicious! I love the piles of fresh produce on the carts and tables; being able to pick your seafood from a pile of ice for cooking is pretty awesome. Dishes are whipped up continuously with amazing speed. Food is pounded, chopped, stir-fried and grilled, imbibing each dish with a unique flavour. Whether you're a lover of charcoal grilled meat on sticks, stir-fried noodles or zesty spicey som tam, you will find something delicious to eat.
No fuss
Street food is the great leveler. Here, no one is above another. Everyone sits on plastic stools of questionable structural integrity, at steel tables stabilised by a folded up beer coaster. Your food will arrive on newspaper, paper plates or communal melamine plates. Linen napkins? Not here, just a roll of tissue or toilet paper perched on the table. Stall holders will greet you with loud shouts of "sawatdee!" or "mingalaba!". There's no fluff and pomp, but there is cold beer and everyone is happy.
A bit of everything
You can find just about anything your heart desires at street carts and restaurants. Ice cream sandwiches? Yep. Noodles? All over it. Banana roti? You better believe it. All manner of stir-fried meat, tofu and vegetable combinations can be found on the street, and even fried insects are available in some neighbourhoods. Fresh cut fruit is popular – make like the locals and get green mango with sugar and chili flakes for a refreshing kick. Alternatively, grab an oyster omelette, the ultimate in greasy, heavy, salty deliciousness. Counterbalance it with some spicy som tam or grilled corn. There is so much to choose from, so make sure you pick a bit of everything!
It's available at any time of day
If you know where to look. Street food vendors are an enterprising bunch, setting up shop outside hospitals, universities, and office towers. Come breakfast or lunch time, they're a flurry of noise and colour as they serve up their wares with unbelievable efficiency. As the sun starts to dip, seafood restaurants pop up on the sidewalk as though the carts are spring loaded. Walking home turns into an obstacle as diners spread out on the pavement. After dark, you can find banana rotis and noodle stalls outside nightclubs and bars to feed hungry partiers as they make their way home. Late night/early morning pad see ew beats the pants off late night/early morning kebabs, trust me.
And the atmosphere…
One of the things I love most about street food is the atmosphere that surrounds it. Stall holders gossip noisily as they wait for customers. Some even nap balanced on their motorbikes! Its incredibly relaxed and social. Tables, chairs and plates are all shared, and people get together just to eat, drink and talk – non-stop! To me, there's nothing better than digging into a pile of fresh cooked pad thai while the streets bustle around you, after a long day walking, sightseeing and shopping. Extra points for ordering in the local language, and assuming the local squat position on the footpath (which is harder than it looks!).
What's your favourite thing about street food? Let me know in the comments below!