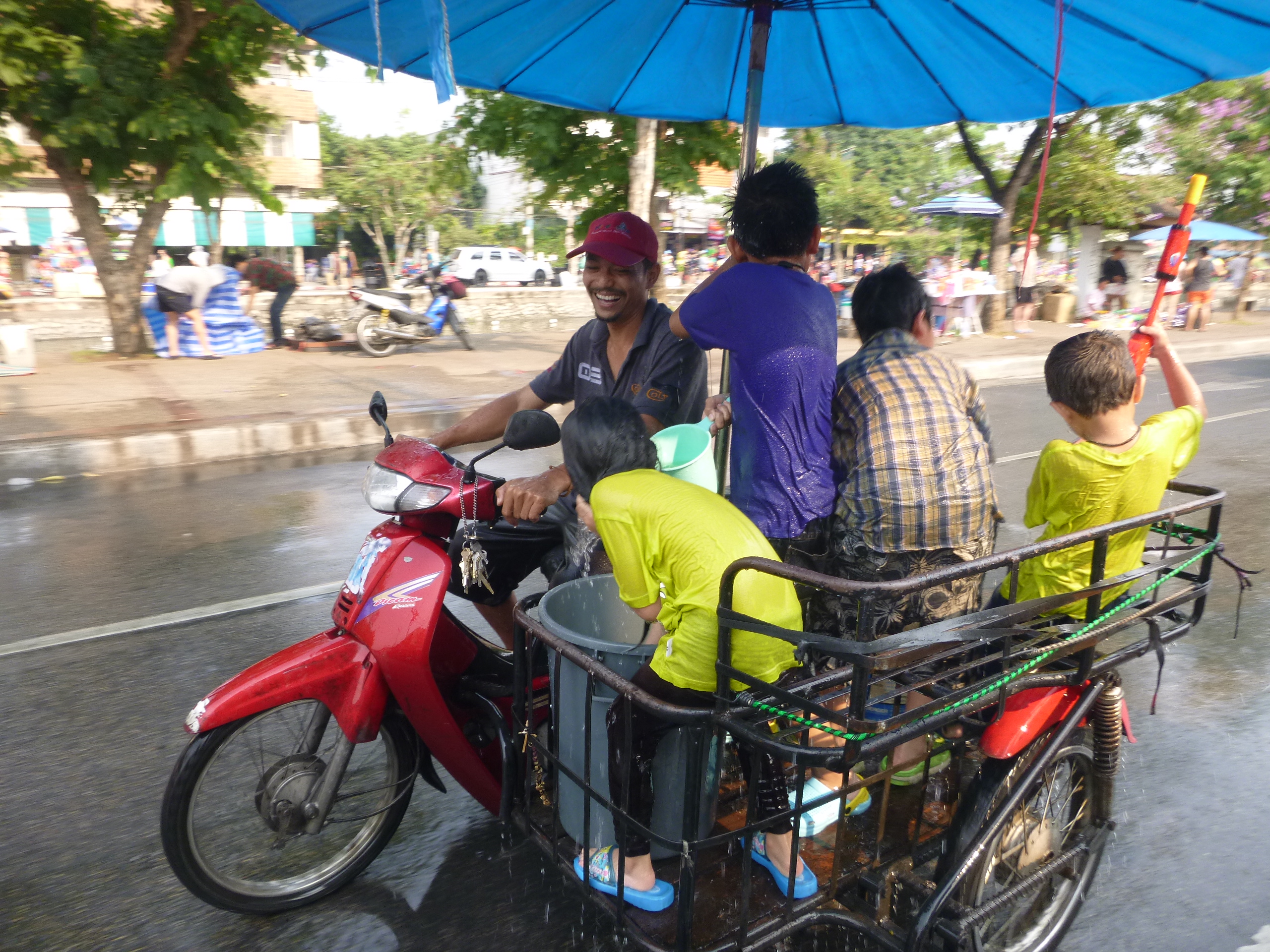 Thailand's Songkran festival is a mad, three day long, country wide water fight that celebrates the ringing in of the Thai New Year. What started as scented water gently poured over Buddha statues and sprinkled over the heads of family member has morphed into a full-blown water war.
Thais ride in the back of utes during Songkran.
The traditional aspect still occurs, in family homes and early morning at the temples, but for the rest of the day, it's on for young and old. Songkran in Chiang Mai is a wonderful experience, where locals and tourists share smiles, hoses and food while wishing each other a happy new year. Held in April, Thai families pile into the back of utes (pick up trucks) and tuk tuks without their canopies and cruise around the old part of the city, following the moat. Some Thai youths and tourists dress up in costumes, donning masks and helmets, turning the streets around the city into a kind of strange Halloween parade. Locals will dump a bucket of cold water over your head, screech "Sawadee Pii Mai!" and apologise in the same breath. Taking part in the festival is some of the best fun you can have while travel, so here's what you can expect at your first Songkran in Chiang Mai.
Stalls and shops throughout the city sell all sorts of water pistols and soakers, as well as small waterproof pouches that can be worn around the neck. I bought one and stashed some baht in it each day. It's also a good idea to invest in a good waterproof camera (or waterproof case) and leave the phones and tablets in your room.
We found these to be the best weapons!
You will amass a small arsenal of water pistols, buckets and super soakers throughout the festival. Some will last the distance, others won't last until your second refill. The best "weapons" we found were made of straight PVC pipe, sucked water up by dragging the handle backward and unloaded very quickly by pushing the handle forward again. They were handy for reaching the kids on the other side of the street.
Shops and stalls will plonk big buckets of water out the front and refill them through the day. You should purchase a water gun or bucket if you want to use this water. Their families and children will be playing here as well, which makes for some lovely fun and photos with them. Add to the hilarity by purchasing one of the enormous blocks of ice from one of the vendors who ride around the city. Dump it in the buckets and hear the shrieking increase twofold. You will see kids swimming in the old city moat too, having a wonderful time.
In addition to water, you might find yourself splattered with a white chalky paste or even coloured water. Thus it goes without saying – don't wear clothes that you don't want to toss at the end of the festival. They could end up stained, torn or endlessly smelly despite the six washes. The footpaths are slippery too, so non-slip shoes are a great idea. Amongst all the fun and water, it is easy to forget hats and sunscreen, and we saw a lot of people paying the price for spending all day in the sun. Use good, waterproof sunscreen like Nivea or Banana Boat to avoid looking like a cooked lobster by the end of the day.
You can choose to stay in one spot and wait for people and cars to parade past you, or join the parade and see what else happening. A lot of Thai companies put up temporary stages, bring in DJs and promo girls, and contribute to the party. Bangkok Airways and Air Asia had stages near the Tha Phae Gate in 2013, with water guns and foam machines swamping the party-goers below. Thai celebrities also make an appearance… and end up just as wet as everyone else.
One of the great kids we met during Songkran festivities.
When taking aim at tuk tuks and scooters zooming past, be sure not to throw water in the driver's face. Play safe. Smaller children may also throw their hands up in surrender and ask you not to throw water on them – try flicking a little bit of water at them instead. Let's face it, no-one really likes an earful of water.
Street food is everywhere during Songkran! Sure, the cart owners might be busy spraying the kids when you arrive, but will quickly whip up some som tam and khao neow for you in no time. Fruit carts, itim khanom pang (ice cream sandwhich) carts and fair floss vendors make their way around the city as well, if you're looking for something sweet. Some restaurants will be open too, with staff taking turns between serving patrons and squirting passers-by. We found a small pop-up stall outside the Top North Hotel, called Toast. They served us local and western snacks, beer, water and coffee until our hearts were content. The owner's brother was on holidays from Brisbane (our home town!) and was happy to spend many hours chatting with us about life in Thailand.
The best ice cream sandwich!
Something else that is everywhere during Songkran – booze! The Thais really let their hair down during this festival, and the booze flows freely. Every 7/11 and almost every street vendor will have icy cold beers for purchase. Some locals may even offer to share theirs with you, but watch out for the locally brewed rum… you could wind up with a splitting headache the next day.
During Songkran in Chiang Mai, once the sun goes down, the water bombing stops. Water weary warriors can head out for dinner and drinks, and dry out a little. The night markets were busy with locals and tourists enjoying street food and some shopping. Some people unfortunately continued throwing water in the dark, which made it dangerous for drivers and pedestrians, but they were few and far between. This was very different to Bangkok, where the water fights seemed to run for 24 hours.
Thais love to dress up for Songkran too!
Other countries in South East Asia have similar festivals at this time of year too – next on the list is Thingyan in Myanmar, celebrating Burmese New Year! Different areas of Thailand have different customs when it comes to Songkran. Some areas focus more on the white chalk mixture, and while we were on our tour in the Chiang Rai region before Songkran, some kids started early and threw water at our tour car as we went past. Songkran is such great fun, and I will definitely be going back!