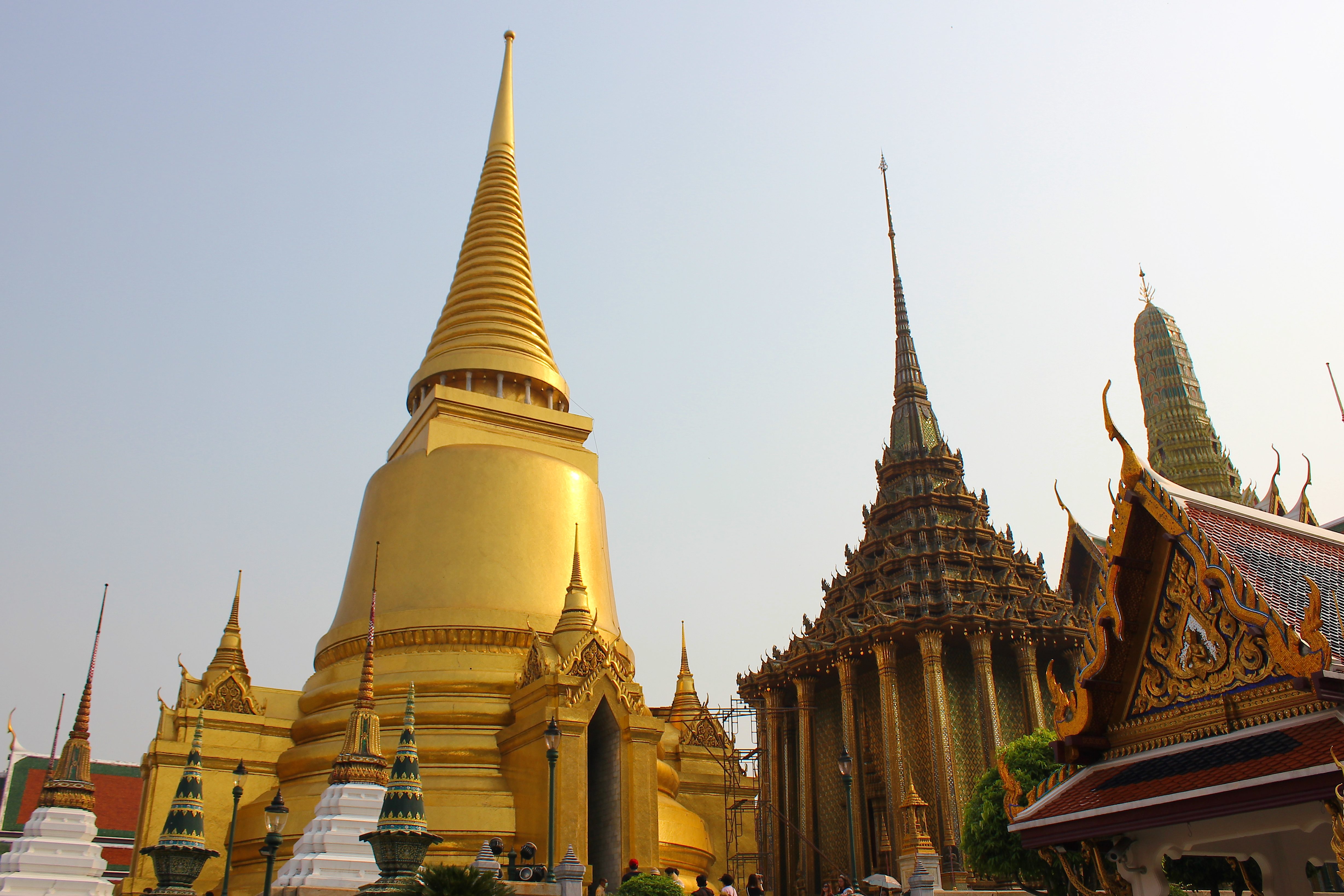 Wat Phra Kaew & the Grand Palace
At the centre of Bangkok's medley of tourist sightseeing locations, lies the Grand Palace and Wat Phra Kaew; two of Thailand's most important cultural and religious sites. Here's why the Grand Palace and Wat Phra Kaew should be on your Bangkok itinerary.
Rich in history
I'm a huge history nerd, and I absolutely loved the Grand Palace and Wat Phra Kaew for this reason! So much of Thailand's dramatic past is tied up in this beautiful place. The Palace and temple were built in 1782, and initially were made of wood. King Rama I took control of the kingdom and moved the capital to the other side of the river, to the area now known as Rattanakosin.
For centuries, the Palace was the centre of Thai culture and home to the monarchy and Buddhist religion in Thailand. Great tales of love, murder, hatred and power have played out in these courtyards. You can see the buildings where the royal family previously resided and where court was held in the immense throne hall. Our tour guide also pointed out, quite casually, the enormous building and courtyard where the concubines and their children once lived.
One of my favourite documentaries about Thailand and the current Thai monarch, King Rama IX can be found on YouTube here. Produced by the BBC in 1979, it is anti-communist propaganda film, but it does give a unique insight into His Majesty's life at that time. This version does cut off short, and I am yet to find a copy of the full production…
All that glitters…
Wat Phra Kaew is home to the most revered Buddhist image in Thailand, and it is only appropriate that it resides in a temple that matches its importance with its beauty. This was the first temple I visited in Thailand and I was blown away by the colours. Every surface is lavished with gold, blue, green and red tile mosaics. The nagas, garudas and monkeys make for excellent photos. You absolutely should stop and strike a pose!
The Emerald Buddha itself is trimmed in gold and precious stones, sitting high on a plinth decorated with more gold and glittering stones. I was awestruck, standing in the dark and staring at this comparatively small statue surrounded by mountains of gold, stones, flowers and incense.
Attention to detail
I love the fine details of Wat Phra Kaew and the Grand Palace. In addition to the fine tile mosaics across the temple and halls, there is also a scale model of Angkor Wat. This model was moved to the Palace on the orders of King Mongkut, following tensions with neighbouring kingdoms. It's an unusual sight within the temple grounds, but gives you a sense of the immense scale of Cambodia's most sacred temple.
The temple is also surrounded by beautifully painted and intricate murals, which tell the Thai story "Ramakian". Even the murals feature details in gold leaf, adding to the decadence of the temple. If you hire a guide, they should be able to to explain each section of the mural – the story is quite incredible.
The Grand Palace is not your standard enormous mansion set in rolling green gardens. Here, East meets West in a clash of architecture. The main throne hall walls are built in western colonial style, but are topped by a sloping roof and tall spires similar to a stupa. If you happen to be visiting at around 10am, you will see the changing of the guard ceremony at the Palace.
Is the Grand Palace and Wat Phra Kaew on your itinerary? Here's what you'll need to know…
To enter the temple and Grand Palace grounds you must dress appropriately, so absolutely no bikinis or singlets! Shoulders need to be covered, and you need to cover your legs as well. I throw a sarong and a light shirt in my bag so I can put them on over the top.
One of the things I loved most about Wat Phra Kaew was the number locals find a moment of peace and quiet amongst the bustling crowds. Locals still pray and make offerings at this temple, so be respectful. Don't interrupt them, and give them space. This is their temple and their beliefs… don't intrude. Follow the signs so make sure you take your shoes off before entering the Wat Phra Kaew temple. Be aware that no photos or video are allowed inside the temple. If you decide to sit down, don't point your feet toward anyone or anything. It's considered highly disrespectful, so tuck them to the side or underneath yourself.
Wat Phra Kaew and the Grand Palace are unfortunately hot spots for tuk tuk scams. People claiming to be tourist police (complete with fake badges!) are known to approach tourists and convince them the Palace is closed. Before you know it, you're packed into a tuk-tuk and taken to several 'hidden' temples… via a few gem shops. If anyone approaches you and tells you the Palace is closed for cleaning, a special holiday or 'just for the afternoon', ignore them. Head straight for the entrance (on Na Phra Lan Rd, follow the crowds!) and don't get in any tuk tuks.
Getting to the Wat Phra Kaew and the Grand Palace is quite easy. You can take a taxi or the Chao Phraya Express boat which stops at the nearby Tha Chang pier. Boats with orange and green flags, as well as boats with no flags stop here. The pier is a short walk through some markets to Na Phra Lan Rd and up to the entrance.